Accommodation Options
Hotels and Budget-friendly Lodges
A number of rooms have been secured, in various hotels of all categories, in close proximity to the meeting venue. Hotel rooms are reserved via the main online registration form. Alternatively below you can find some suggested accomodation options.
Hotel
Category
Distance to MAICC
Single room
(breakfast included)
Double room 
(breakfast included)
Crowne Plaza Hotel
4* Superior
650m
170.00 €
190.00 €
Holiday Suites Hotel
4* Superior
550m
150.00 €
170.00 €
Golden Age Hotel
4*
500m
125.00 €
135.00 €
Ilisia Hotel
4*
650m
115.00 €
125.00 €
Athinais Hotel
3*
400m
100.00 €
120.00 €
According to Greek legislation, a stayover tax is charged to guests in Greek accommodation units in addition to the room rate per night. The amount charged is EUR 1,50 in three-star hotels, EUR 3,00 in four-star hotels and EUR 4,00 in four-star superior and five-star hotels. These amounts are not included in the hotel rates provided and will be paid directly at the hotel receptions.
Crowne Plaza Hotel 4* Superior
Built on the banks of the ancient river Ilissos, the Crowne Plaza Athens City Centre hotel presents a vibrant mix between colourful local elements and luxury international standards, practising an eco-friendly philosophy that promotes sustainability. This luxury hotel surpasses the visitor's expectations both in terms of service and accommodation.
The hotel features a convenient gym within its premises, a business centre in the lobby and over a dozen banquet and conference rooms. This is a high-tech property with useful features such as a media hub under the flat-screen satellite TV in every room, speakers in the bathrooms, hotel-wide wireless printing, discrete cutting-edge security installations and cordless telephones in all rooms.
A destination for business, leisure and shopping. The award-winning hotel lies strategically in the central Athens suburb of Ilissia, only a 20-minute leisurely walk from the happening heart of the capital, Syntagma Square. The hotel is a 10 min walk from the Megaron Athens International Conference Centre and 15-minute walk a variety of high-quality museums.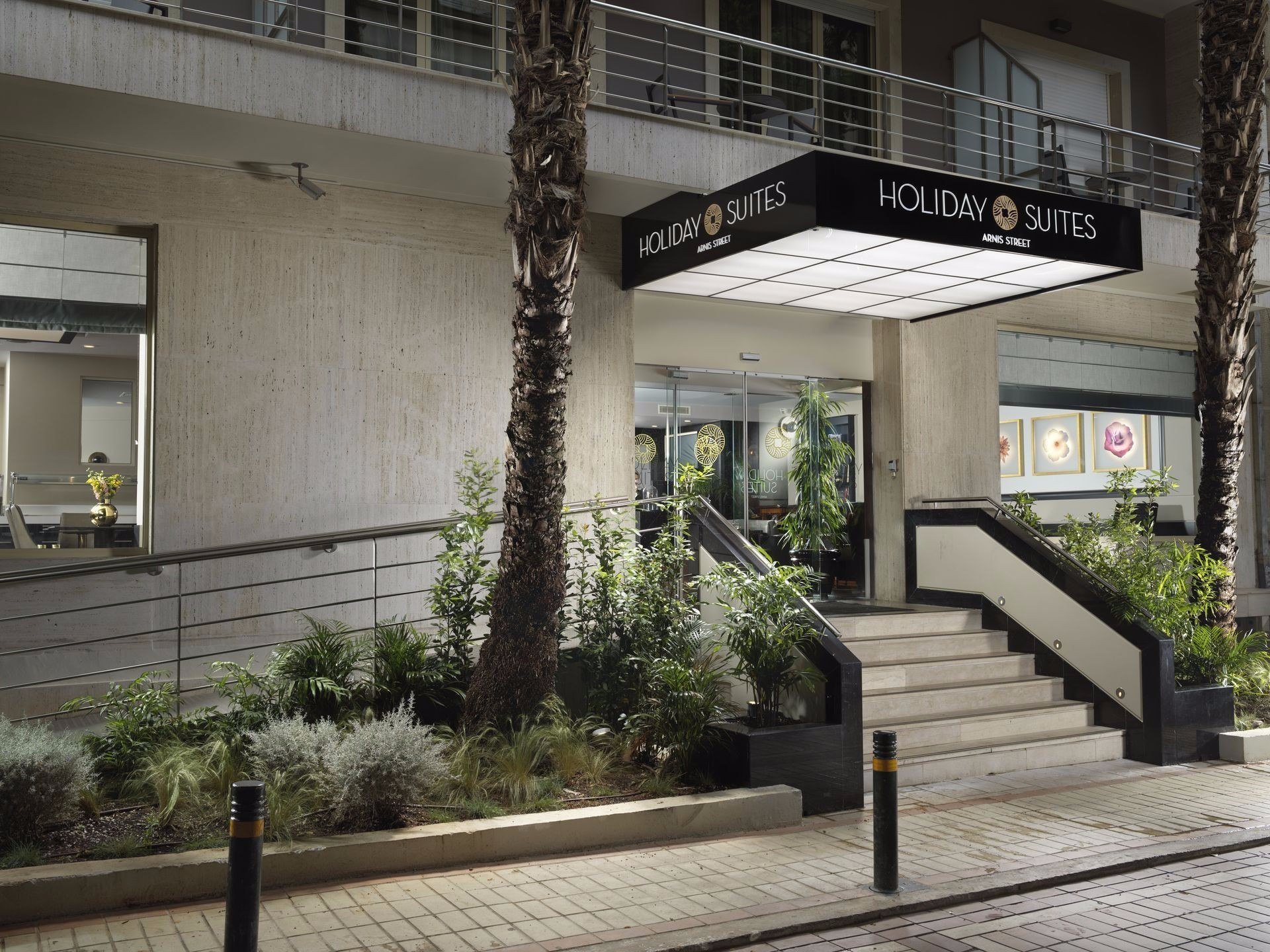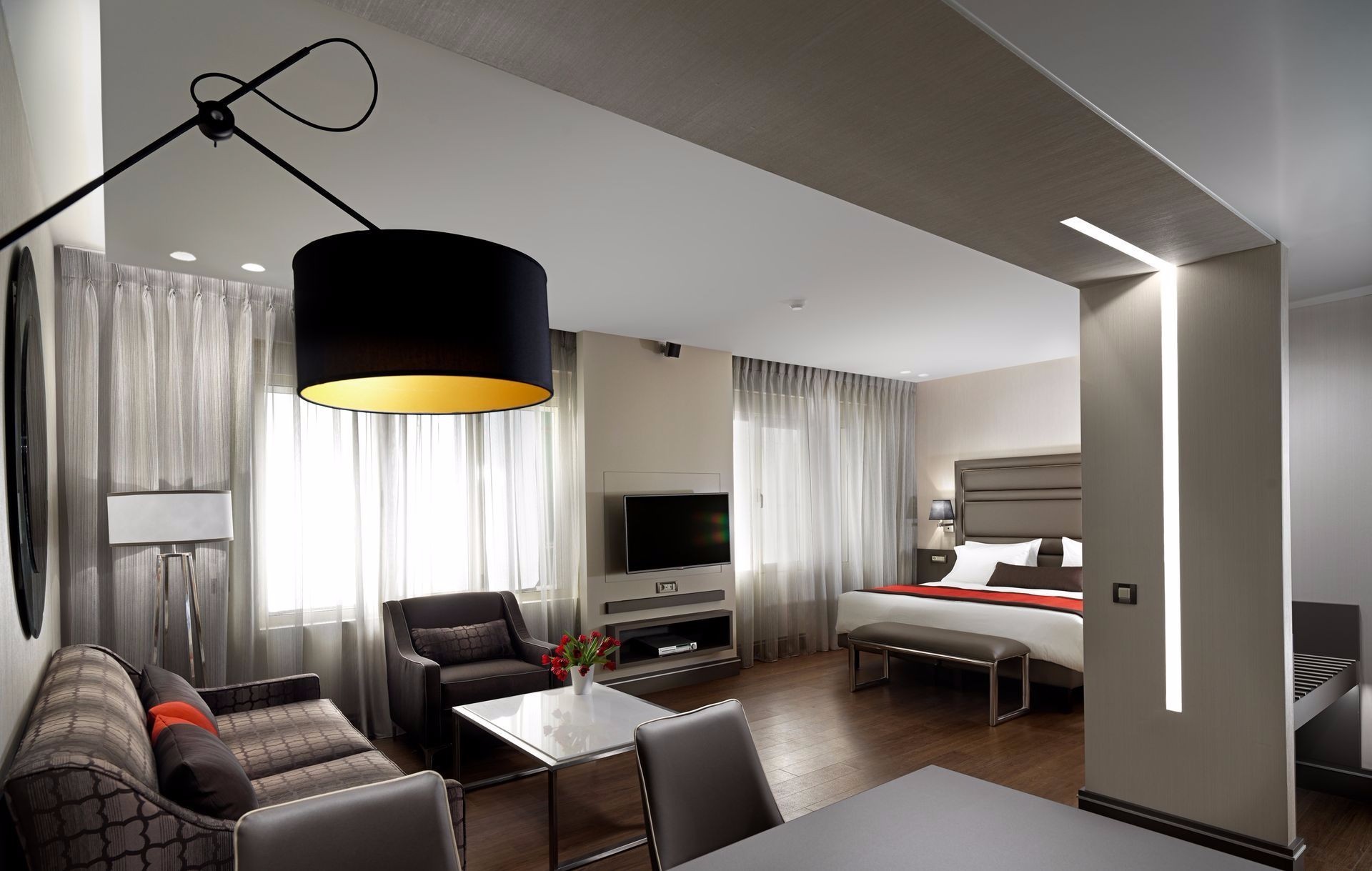 Holiday Suites Hotel 4* Superior
Holiday Suites Boutique Hotel is an oasis in the centre of Athens! The newly transformed Holiday Suites at Arnis Street offers 34 ultra-spacious luxury suites, each a sanctuary with style. Tucked away in Arnis street, a quiet and green pedestrian side street, Holiday Suites opens again its doors after a complete reconstruction.
This elegant property with high quality amenities and services is less than five minutes away on foot from the Megaro Moussikis metro station and a leisurely 15 -minute walk to the heart of Downtown Athens, and its endless possibilities. Every guest can experience in this Hotel exceptional accommodation services in contemporary spacious rooms with natural light, custom furnishings and state-of-the-art technology.
Golden Age Hotel Hotel 4*
The Golden Age Hotel of Athens is an urban chic elegant hotel situated in one of the safest and most accessible areas of Athens, only 7 min walking distance from the Megaron Conference Centre. Throughout its 40-year history, it has maintained a spirit of individuality and personalised service. Its recent renovation incorporates these exact values whilst simultaneously keeping up with new trends. The newly designed bedrooms are equipped with latest technology and luxury amenities. Private, enclosed parking is available at a location adjacent to the hotel (upon request).
In this hotel the guest has the opportunity to discover and enjoy the beautiful, simplicity yet impressively harmonic aesthetic of the classic hotel rooms with comfortable furnishings, doubleglazed windows with high quality branded luxury bath amenities and branded comfortable linen and towels.
Ilisia Hotel 4*
The Ilisia Hotel is a comfortable standard 4* hotel in a quiet central area overlooking a small park. The hotel is centrally located, at 10 min walk from the Megaron Athens International Conference Centre, close to the city centre and its historical sites, and close to vibrant cafes and restaurants that adorn the beautiful city of Athens.
Most of the local popular city attractions here are within easy reach distance from this centrally located Athens Hotel including the popular cosmopolitan area of Kolonaki.
Ilisia Hotel also benefits from free parking and great transport links, located with close proximity to the Metro, Airport and Bus Services. Each of the hotel rooms is modern with great facilities and feature a refrigerator, in-room safe and data ports. Free high-speed Internet access in all rooms is being offered as well as in public areas.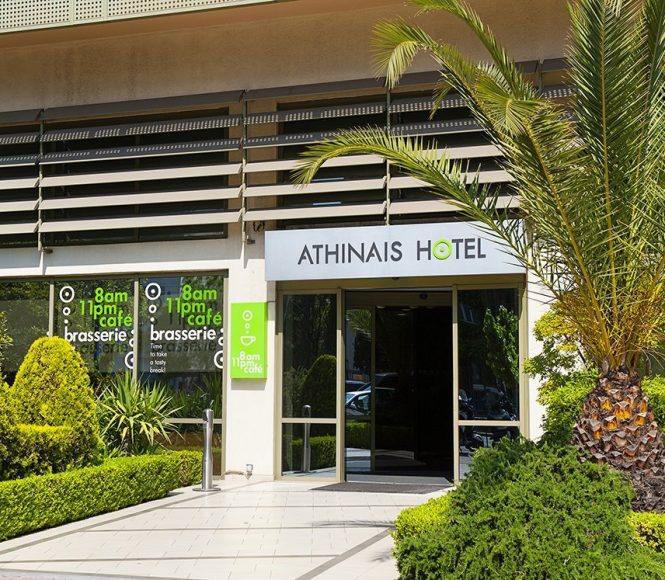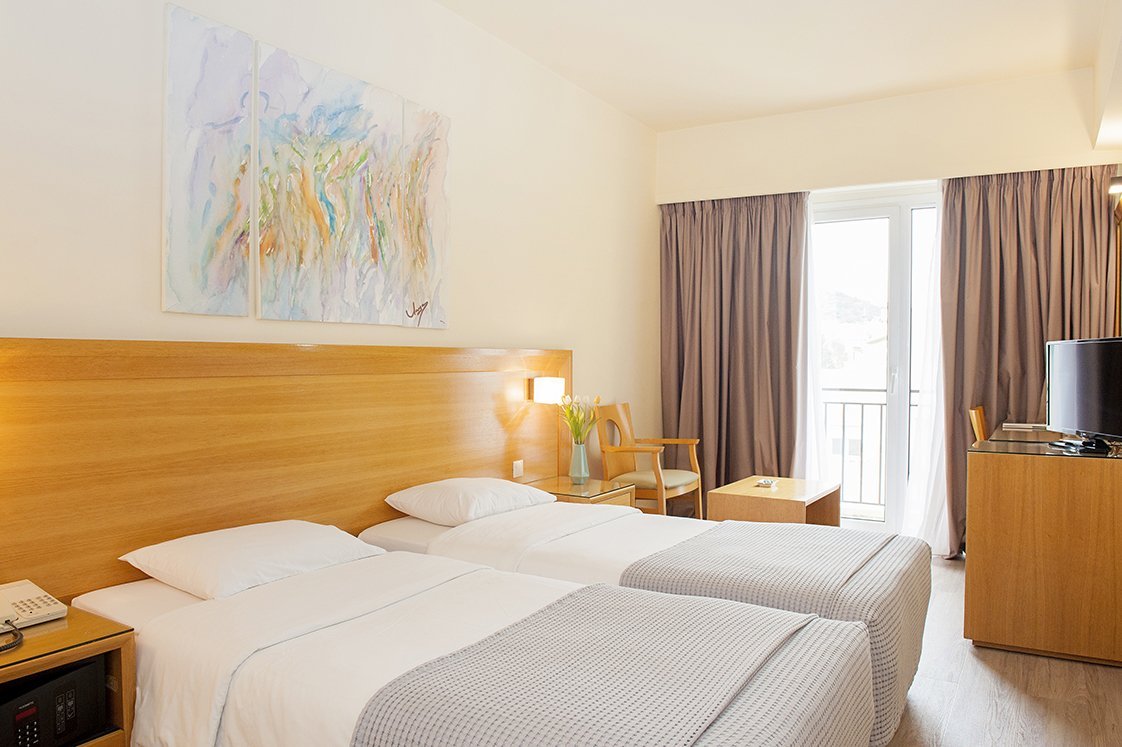 Athinais Hotel 3*
On one of the most central and beautiful avenues of the city, in the commercial and social centre of Athens, the Athinais hotel offers a value for money 3* accommodation in a friendly and hospitable atmosphere. The friendly environment of Athinais hotel is based on the family character of the business and the personal care of its owners.
All rooms are fully equipped to satisfy the guests' needs. Each room has individual climate control, soundproof double-glazed windows, fireproof doors and its own balcony. There are exclusively nonsmoking floors as well as rooms for the disabled.
Athinais Hotel is located in the heart of Athens next to Mavili square, in a safe area 10 min. walk from Kolonaki area, the most popular commercial and shopping area. Just 5 min walk to the Megaron Athens Conference Centre Hall and Venizelos Park, 15 min from the National Gallery.
With over 28.401 beds in 230 hotels, the City of Athens has a full range of accommodation choices, from budget-friendly to five-star international hotels.
Click on the button to view the joint ISWC "Call for papers